Ben Nicholson, "March 17 1950 (still life);" Giorgio Morandi, "Still Life"
A simple interior, rather, is composed of shapes an imagination explodes with liveliness, just as dining with a little wine and fruit can be most pleasurable.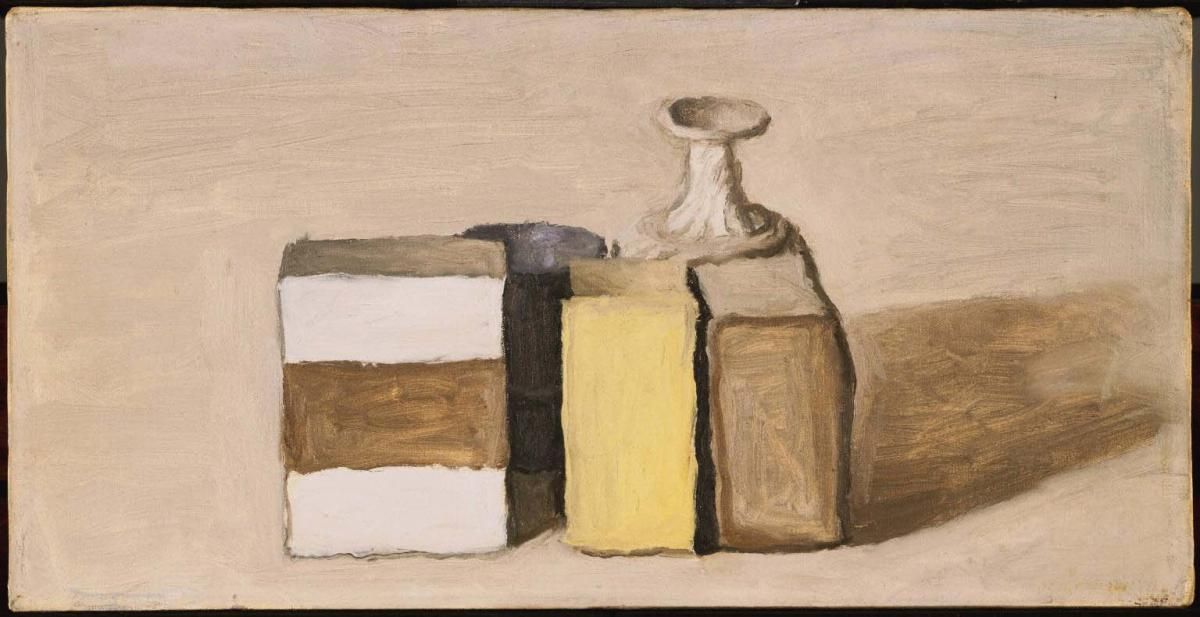 Welcome! Thank you for your support!
There's a lot to share with you, so I think I should say a little about my selection process. I think it's of the utmost importance to share things which discuss our media habits and how we get our information. I'll be real: I fall for misinformation or terrible arguments at times. There are people who like to think they're superior because they don't, but I hope that I see things like a complete idiot sometimes because that's part of the cost of having values. Sometimes you end up seeing things which aren't there because you really want to have a vision that matters, not just make a snarky joke or "dunk" on someone. And it doesn't help we're flooded with movements which use billions of dollars to poison the media and make us so uncertain we can't tell what's true, let alone make decisions about right and wrong.
Which brings me to the first link I want to share, about some of those movements:
I also want to share two excellent op-ed pieces about newsrooms and online harassment. This might seem a media-on-media topic, only for journalists, but I know it has broader implications for political life in an age of mass media. Both discuss how bad actors use their followings to create mass pile-ons. We're not talking pile-ons because anything was done wrong; a lot of times, the journalists victimized are telling hard truths:
I hope you don't find those articles too depressing. I feel like each points to solutions which can help the present situation. Part of me is amazed we can diagnose the vectors of bad faith and misinformation so well. I've got to hope there's a cure when the truth can be told.
---
It looks like a white flag, waving, holding within most of the painting's objects. Those objects are of home decor: tan rectangles, plate and goblet-like shapes. Splashes of yellow and purple, orange and red, especially stand out, but browns and various shades of blue-gray dominate the canvas.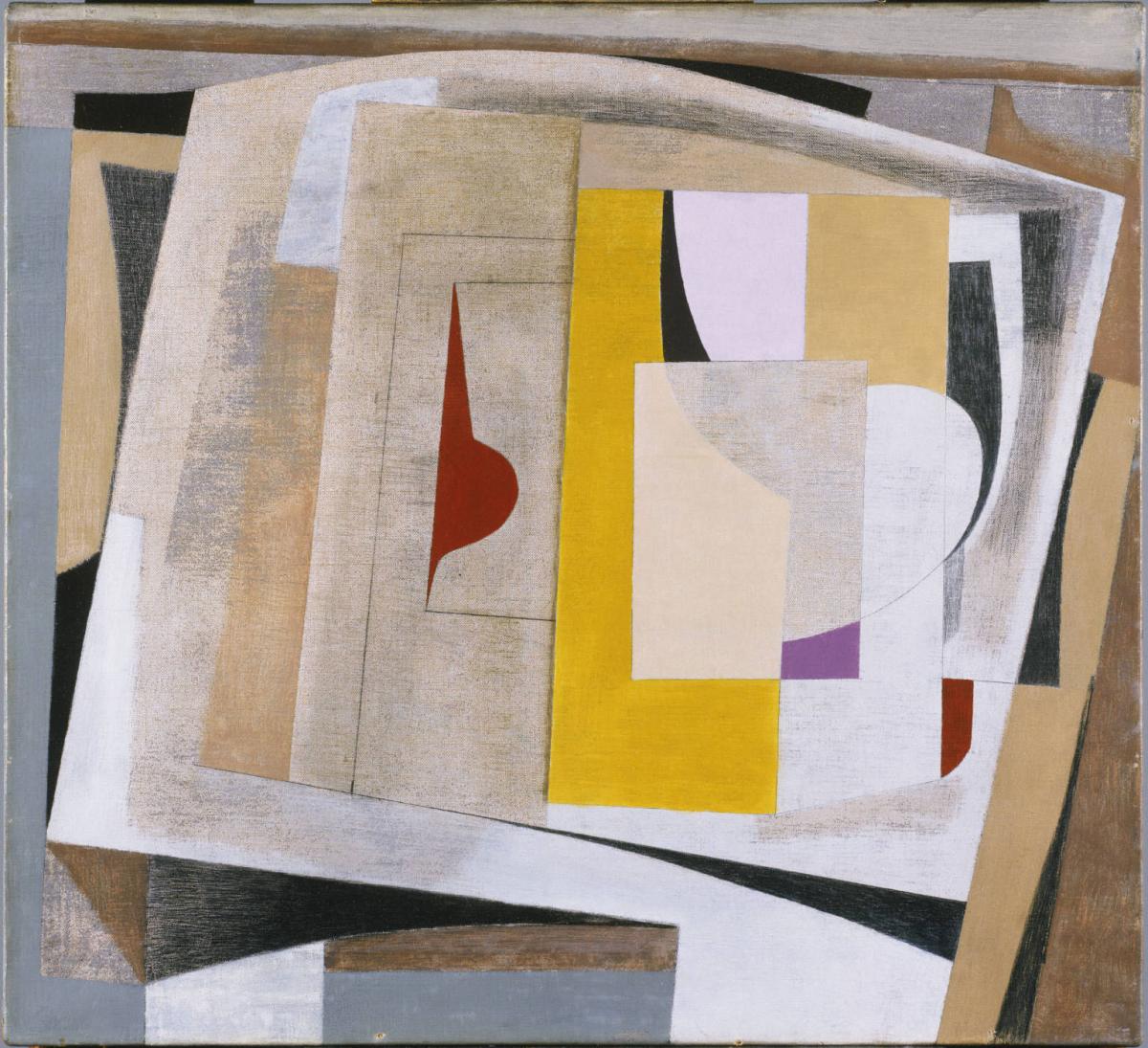 "March 17 1950 (still life)" can be said to scramble the forms of a traditional still life. The blues, browns, and rectangular shapes give a powerful hint of a furnished room. I prefer to think of it as a scrambled dining scene. Johanna Halford-Macleod points to the "translucent, overlapping layers" of paint (156). The white flag-like object has light tan and blue-gray coloring on its left; on its right, a white sheen covers but does not conceal a bright yellow square and what seems part of a filled wine glass. These colorations remind me of how cloth carries light: a blue napkin, perhaps, or a thin curtain. The white flag, on second thought, resembles more a tablecloth.
For me, Nicholson's still life serves as a playful study of interiority. It does not foreshadow HGTV and our cult of having a perfect, marketable home. A simple interior, rather, is composed of shapes an imagination explodes with liveliness, just as dining with a little wine and fruit can be most pleasurable. Chardin's "Pears, Walnuts, and a Glass of Wine", I feel, has a complementary theme, even if the spirit of the two paintings is different.
⚙︎
Giorgio Morandi's "Still Life" (1953) has intensity where Nicholson (1950) has playfulness. His painting does not hide its brush strokes. He lets us see how they build an object, hold weight, and capture light. To this end, his background objects are exquisitely and recognizably rendered. We see a black cup gather a shine with its openness, a vase's vine-covered neck resolve into a mouth.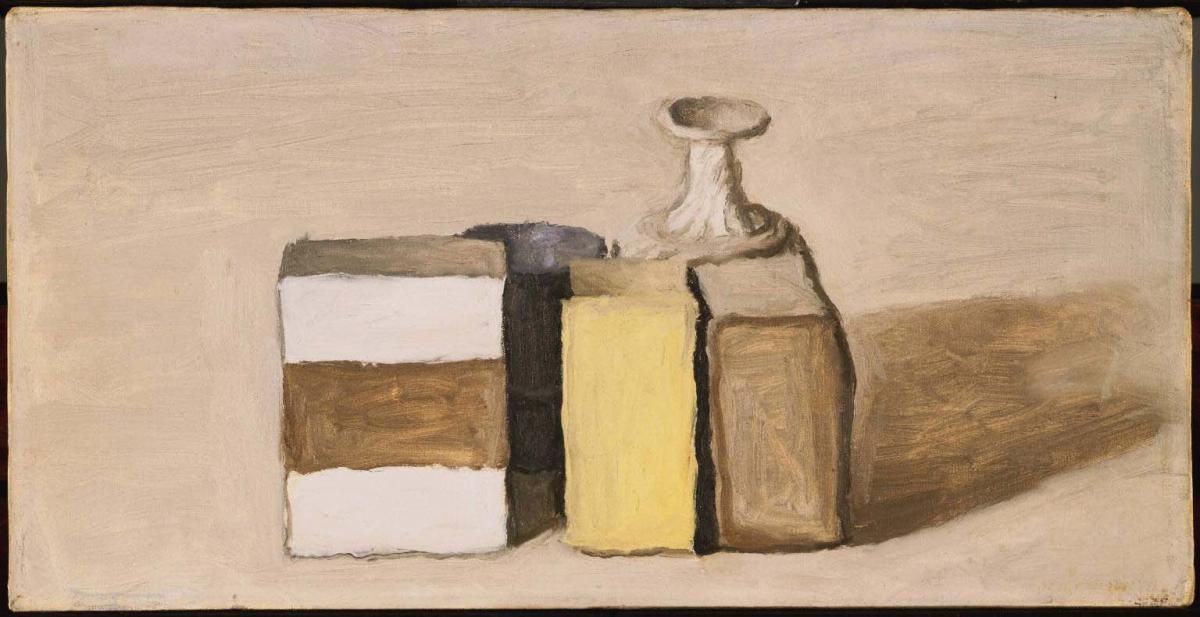 However, the foreground objects: well, what are they? Perhaps they too are vessels, but I'm tempted to think they're just blocks of paint, almost unidentifiable as items in a room. Morandi foregrounds his workshop, as if to say "this is what is truly real," letting the background be a lovely illusion. Still. Halford-Macleod notes the compressed space, the complementary colors. Her words: "Quiet, enigmatic, and somehow insistent, the vessels herd together, interlocking forms in an indeterminate space" (150). Do these objects belong together? Is there some natural grouping or order the artist has discovered?
In one still life, the imagination is given the freedom to soar. To transform a room with some sunlight streaming in, a glass of wine, maybe some plums into wondrous speculation. I can't say my mind works quite the same way. A story which may or may not make this clearer. I remember doing some of my best writing at a cafe in Salzburg. I was bitter at being rejected; I sipped coffee as I sat outdoors and scribbled away. The sunlight didn't make the world magical, but it made it visible, and overhearing conversations of a few who desperately wanted their wealth and status to be significant gave me confidence like I've rarely had. I felt real in a way I hadn't felt in a while.
In another still life, the imagination conforms to duty. The objects exhibit a graceful beauty which the artist serves in putting them together. His toolkit is as real as the objects themselves. Even if he points to its unreality, it proves the opposite. For a long time I worried that in writing, I'd remember only what I wanted to remember. When you're at it every day, sometimes every minute, you end up turning the memory from so many angles, so many times, you can't help but get a bit closer to what's true.
References
Rathbone and Frank, Master Paintings from The Phillips Collection. Washington, DC: The Phillips Collection/D Giles Limited, 2011. 150 & 156.